Hewlett-Packard Series 80 - PRM-85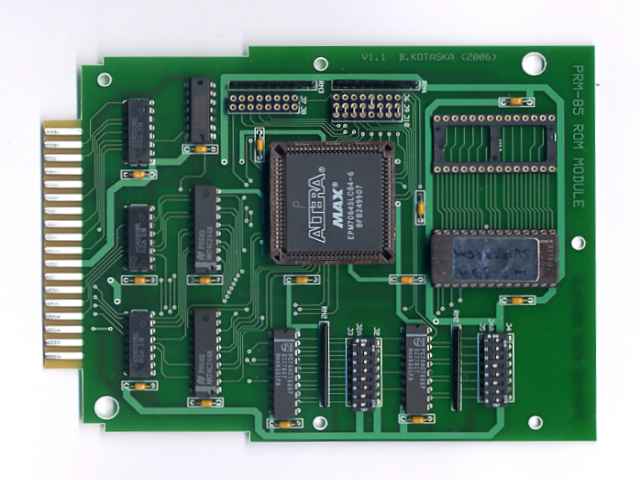 The PRM-85 project reproduces the HP Programmable ROM module and so allows any Series 80 owner (eg HP-85, HP-87) to have a means of running rare ROM software such as the Assembler or the Extended Mass Storage. The EMS ROM is particularly useful as it allows most models in the Series 80 to support a wide range of HP disk drives which are still easily available on the second-hand market. Service ROM images are also available for the HP-85 and HP-87, enabling users to run comprehensive tests of their machines.
The PRM-85 can also store user produced ROMs, such as the Forth ROM or André Koppel's SYSEXT ROM.
Prior to the PRM-85, users had to search eBay and used equipment vendors to try and find the Assembler ROM, the EMS ROM, or even the rare HP-85 Service ROM. Now with the development of the PRM-85 board there is a ready means of enhancing a Series 80 computer to run the fullest range of software and support the widest range of disk drives.
A definition of the PRM-85 is:
Standard Series 80 card - fits in any slot on the rear of the HP-85/HP-87/HP-9915.
Uses easily available modern components.
Supports EPROMs in the 2764 / 27128 / 27256 / 27512 family.
Supplied with a HP-85 SuperROM with 8 popular ROM images.
Price of a new PRM-85 board is (as of December 2016) $120 / £97 / €115 each plus postage, this included the HP-85 SuperROM. Other ROMs available to order. nb exchange rates are volatile so prices are subject to change.
The first PRM-85 was made in 2005, since then around 100 boards have been produced and are now in use around the world.
Update for February 2017: the last batch of boards has sold out. I contacted as many people as possible on the waiting list, so if you didn't hear from me in past 6 months or if you want further details please e-mail me.